Music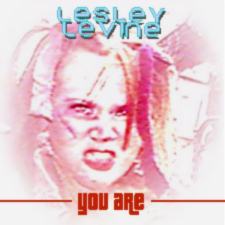 "YOU ARE!" How many family arguments were caused by this timeless pop oddity? In 1982 small girls with painted faces and rags in their hair could be heard everywhere bellowing the chorus of this song at their parents, teachers or anyone else with the slightest authority. Before 'girl power' came Lesley Levine's insanely catchy diatribe against a world that conspired to impose order on her flouncy individualism.
Levine was, briefly, the high-priestess of the New Romantics. Duran Duran, Spandau Ballet and Emblaze were all fans. She was the bad girl you couldn't take home to meet your parents in case she murdered them, or at the very least, rocked their bourgeois sensibilities to their very foundations. Who can forget the look on Frank Bough's face when she threw her umbrella at him on Nationwide?
A string of appearances miming and gurning her way through the song on TV shows earned her a devoted fanbase but the long-awaited debut album and tour were never to arrive. Already bored by her moment in the limelight she retired almost immediately to Skye with her family where she still breeds miniature cattle. She was seriously injured in 1999 when the gold disc of You Are fell off the wall and fractured her skull.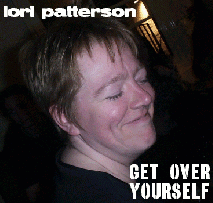 Constantly pigeonholed as one of those 'quirky' female singer-songwriters who attract a loyal culty following but leave everyone else bemused and blinking, Lori Patterson is actually a serious artist who deserves a second, third and possibly even fourth listen.
From the opening chords of Fightin' Not Hibernatin', which resound like the sound of bins being kicked over in Kate Bush's garden at midnight, you know she means business. Songs like Magnet, Friend's Party and Coffee with Fran then assault the listener's ears with such ferocity and spirit that it is impossible not to think you've suddenly got into a fistfight with Julianna Hatfield and her twelve brothers. The determined speedmetal-folk groove is kept up for fourteen spectacular nose-bleeding tracks, the atmosphere calming down only slightly for the final number Are You a Geek, a Freak or a Doofus??.
Most people are aware of her idiosyncratic stage performances (she has been known to spit on bouncers and once told Kim Wilde to "F*** off" during a duet) but on CD there is far greater opportunity to explore her subtler side. Her astute political conscience gets full reign in songs like They Came for the Gold Top and I Said Nothing in which she fantasises about being Hitler's milkman.
A word of warning, though. This album has been heavily bootlegged and it's estimated that as many as one fifth of the copies in circulation have three songs by Andy Williams stuck on the end.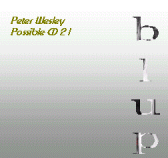 Yet another instalment of the ongoing conceptual art piece by ex-Frogboy frontman, Peter Wesley. Wesley's central idea is that there is a vastly huge - but finite - number of possible CDs that can be recorded. With the frequency range of human hearing to play with, you can get roughly 170,000,000,000,000,000,000,000,000,000,000,000 possible combinations of sounds on to a CD of 74 minutes playing time. This represents the library of all possible CDs. Most of these will be random noise. Only the tiniest fraction will be recognisable as music - and a tiny fraction of that will be the entire back catalogue of every artist who ever recorded. Wesley's mission is to bring us some of the CDs whose existence was previously only mathematically possible.
Possible CD 21 is entirely silent but for the sound of a woman saying "blup" 52 minutes in. It is the first of Wesley's possible CDs to be primarily silent, recalling John Cage's famous silent piano piece 4 minutes 33 seconds.
To date, Wesley has released nearly eight hundred possible CDs, featuring - amongst others - mice fighting in a mandolin, choirs of babies, lisping sea shanties, white noise, an interview with a chimney sweep with every ninth word replaced by a car horn, coughing, Jewish humour and carpet fitting instructions. If he can obtain copyright clearance, his next release will be the greatest hits of Bryan Ferry and Roxy Music with a kettle boiling in the background.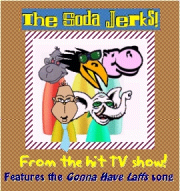 The Soda Jerks Hour combined animation and pop music and was created by the production company Jenks Schmendler Jenks Associates for Paramount and premiered in a Saturday morning timeslot in February 1971. The animated band - Sodaphant (lead guitar), Sasparilla Gorilla (saxophone), Fizzopotamus (organ), Surfbird (bass guitar) and Monkey Business (drums) - appeared in an hour long slot, linking live action serials and other animations with songs and sketches. Among the other items that appeared as part of their programme were the Freleng & Depatie cartoon Here Comes The Schmook! and an unusual retelling of Robinson Crusoe, in which animated characters were superimposed on an animated background.
The production team foresaw massive merchandising potential, particularly in light of the soda-based theme of the series, but unfortunately The Soda Jerks Hour failed to catch on to the satisfaction of its sponsors, and the last edition was aired in September 1971. In fact, barring a couple of plastic figures, the only item of Soda Jerks merchandise to be produced was an album that gathered together the best songs from the series. Most of these were original numbers written by 1960s hitmaker Tommy James, moonlighting organ legend Al Kooper, and the then-unknown Bruce Springsteen, but there were also a couple of cover versions, including Psychotic Reaction (a hit for The Count Five in 1965), I'm Into Something Good (the Herman's Hermits number) and somewhat oddly, an interpretation of Traffic's Shanghai Noodle Factory which remained largely faithful to the original eight minute improvised recording. Nonetheless, the original numbers are the main focal point of interest, with Jelly Jam Castle in particular being highly rated by collectors and bubblegum pop aficionados alike. Three of the tracks from the album, The Gonna Have Laffs Song, 3-6-9, Stop Sign! and Merry Little Merry-Go-Round were also included on a cardboard-mounted flexidisc given away free with Casey's Orange Whip. The latter song was never released elsewhere, and as the flexidisc was edible, few copies now survive.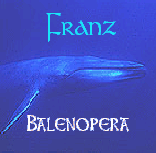 The sound of whalesong will bring back patchouli-scented memories for anyone who grew up in the seventies. In those days no record collection was complete without at least one album of mournful warblings from a whale - and most famous of all these lumbering aquatic vocalists was Franz.
Franz was a blue whale 'discovered' by the marine biologist David Blundell, who recorded his eerie pipings one night in 1972 while researching dolphin migration in the Pacific. Blundell was moved by the whale's songs and after favourable reactions when he played them to friends, decided to release them as an album. That debut recording Ocean Talk went gold, appealing on an almost subconscious level to followers of the burgeoning ecology movement.
Demand for a follow-up was intense and soon Blundell returned to the Pacific to capture the sound of Franz, this time in a boat equipped with a mini-studio. During recording sessions, Blundell would empty crates of krill into the sea while the whale 'improvised' ideas into the microphone. The album that followed, Balenopera, is regarded by most fans to be the definitive Franz recording, a perfect blend of camp mysticism and chillout. More albums followed, of varying quality. Blundell received criticism for exploiting Franz, who later on in his 'career' would only feed from beneath Blundell's boat, shunning the company of other whales.
And where is Franz now? Sadly, as the television show Top Ten Animal Records revealed, Franz was killed by whalers in 1983 for the blubber, whalebone and carameline stored in his body. David Blundell now has a singing career of his own, sometimes covering Franz's songs in tribute to his remarkable protegé.